Molding Inserts
Provide strong threads with excellent pull-out and torque resistance. Tapered design installs more quickly, while the straight design permits the use of a smaller hole.
Use in thermoplastic Install with standard ultrasonic welder or heat driver.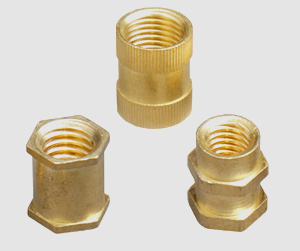 Knurling Available:
Diamond
Straight
Unidirectional
Round Inserts
Hexagonal Inserts
Square Inserts
Material:
Free Cutting Brass IS 319 Type (I)
Free Cutting Brass as per BS 249 Type (I)
High Grade Free Cutting Brass.
Any Special Brass Material Composition as per customers requirement
Threads:
ISO Metric (MM Threads)
BA Threads
BSW Threads (Inches)
UNC, UNF Threads
Any threads as per custom design.
Sizes:
Begins from M2 or equivalent threads and upto any size as per custom design or requirement
Finish:
Natural, Nickle Plated, Tin Plated or any coating as per customer specification.