Brass Forged Flare Components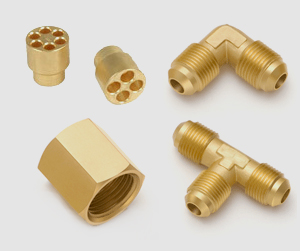 We offer clients a wide range of precision designed and engineered brass components those are manufactured to meet the specific functioning demands of Domestic Split and window air conditioners. All brass components are manufactured on CNC machines. We take all precautions as for as quality is concerned. We use high quality brass of IS 319 grade. Our process expertise also allow us to develop these brass components as per the specifications provided by the clients. The range of brass components offered under this category includes brass forged components, brass flare connectors, brass flare nuts, forged flare nuts, brass service valves.
These brass distributors are manufactured using superior grade brass of IS 319 grade. We supply these distributors to all the leading manufactures of Window and split Air conditioners and We also manufacture Aluminum distributors for auto AC applications.
Features:
Offering a wide range of high quality distributors that are produced with Brass Extruded Rod
Use of latest technologies in processes like puling, punching, reducing, drilling and others
Interpretive designed and precise degrees divisions adopted at production stage
Products have separate air liquid flowing in the evaporator of refrigeration system
We can also design products as per specifications of our valued customers.
Any kind of Forged Components For Plumbing and Sanitary can be developed and supplied exactly as per customers drawings and specifications.