Brass Wing Nuts
We are leading manufacturer of Wing Nuts and Fly nuts. We have more than 50 type diffrenet size and shape of wing nut available. We have also light, medium, and heavy quality available.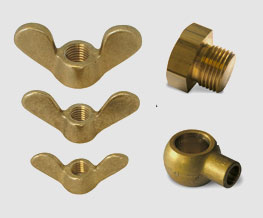 Material:
Free Cutting Brass IS 319 Type (I) or
Free Cutting Brass As Per BS 249 Type (I) or
High Grade Free Cutting Brass
Any Special Brass Material Composition As Per Customers Requirement.
Application:
Used for all light and medium duty fixing in Building Industry. For e.g. : Electrical, Sanitary Installation work, Air-conditioning, Mounting of suspended ceilings, Heating systems etc.
Specification Followed:
BS 3692, IS/1363, IS 1367, IS 1367/ 1366
Length / Size:
As Per Custom Designs or Requirements
In Case of Cold
forged Machine Bolts:Brass as per IS 4413 or BS 2874/Cz108 or High grade mild Steel in case Cold Forged Machine 130ms
Threads:
All screw threads like BSW BSF BSP UNC UNF BA ISO Metric MM millimeter UNS NS available.( Roll threaded and cut threaded)