Brass Battery Terminals
We are the leading manufacturer and supplier of quality Brass Battery Terminal. The Forged Brass Battery Terminal, manufactured by us, is well known for its durability and strength. The Solid Brass Battery Terminal, we offer, is easy to install and remove. The designs and sizes of the products developed keeping user's safety on top. We develop Solid Brass Battery Terminals in specified lengths, shapes, sizes, using high quality material according to customers' specifications and needs.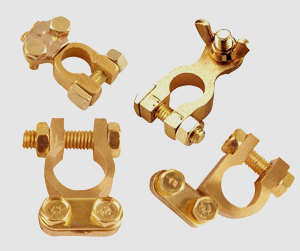 Types:
Seiver Crimp Type
Angle (Bosch) Type
USA Car Type
Post Type (Machined)
Solder Type (Machined)
Solder Less (Screw) Type (Machined)
Hex Head Bolt Type (Machined)
Cable Lugs (Brass)
Material:
Free Cutting Brass IS 319 Type (I) or
Free Cutting Brass As Per BS 249 Type (I) or
High Grade Free Cutting Brass
Any Special Brass Material Composition As Per Customers Requirement.
Threads:
ISO Metric (MM Threads)
BA Threads
BSW Threads (inches)
UNC & UNF Threads
Any threads as per custom design..
Features:
High strength
Corrosion resistant
Low maintenance cost
Platting:
Natural, Nickel Plated, Tin Plated
or Any Coating As Per Customer Specification.
Specifications:
Wire range: 0.5 - 1.5, 1.5 - 2.5, 2.5 - 4, 4 - 6 mm2
Thickness: 0.7 mm, 0.8 mm, 1.0 mm, 1.2 mm, 1.4 mm, 1.7 mm
Weight: 50 - 118 g/pc
Voltage rating: 24 v